Meet with Bonham Master Tailors in Central Shop
Bonham Strand (Hong Kong) is an award-winning manufacturer of quality bespoke apparel for men and women in 2013 which restoring the traditional value to the "Made in Hong Kong" brand. Manufacturing locally offers a promising space for self-development and elevation for the disenfranchised garment workers and youth in our community. We do aim at imparting the bespoke craftsmanship and spirit to the next generation.
There are at least 3 appointments process by asking how you intend on making the suits, your personal style and needs since 2012.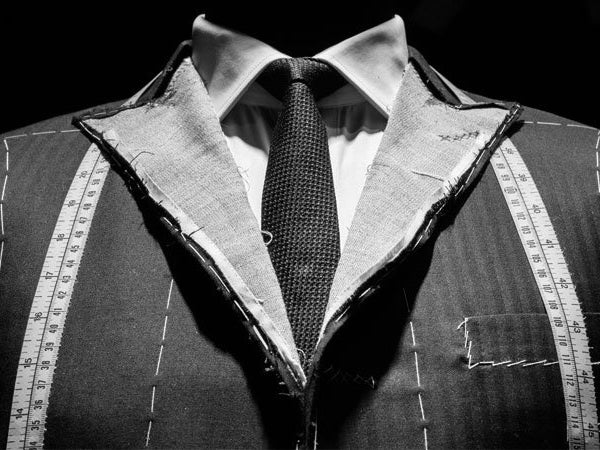 Full Canvas
-Use Italian Luxury Ponytail Canvas
-More Detials fully handmade
-Longer Production Time
-Natural Range of flexibility and movement
-Nice Drapes and shapes
-Expensive Priced
Handmade Details
-Unreconstructed Style
-Milan Eye (Handmade Style)
-Handmade Buttons (Special Colors)
-Mixed and Match Styles
-Extra / Special added details
Book An Appointment
Classic Shades of Suits
Grey Suit

The Charcoal grey suit is always defined as the business formal settings from a job interview to weddings, which is typically seen in warmer weather or sunny outdoor events. With the grey suit, your appearance will definitely remarkable as a humble and sophisticated gentleman among the people.

Navy Suit

For a modern mixed classic look, a blue suit is the one shown in the wardrobe that every man should own.

There are a lot of royal blue, bright blue, baby blue, midnight blue, classic navy blue, dark blue fabrics to choose to make your own style blue suit(s).

Black Suit

Black suits is the timeless menswear and can do always be right. It is the best color for a wide range of usage to make you look better and better. Super Black dyed fabrics will always help you to stand out in front of the other black suits, let Bonham Strand help you to pick the best suitable black suit.
Why choose your suit with Bonham Strand ?
We use high quality Italian interlinings with quality fabrics to produce in Central workshop.
We are passionate and love to study menswear trends.
Well made suits will always last the longer time with your wardrobe.
And you will walk away with Bonham Suits with confidence.
Book An Appointment